Korean media has been ripe with controversy in the past little while, with its first ever one-episode drama special dealing with lesbian identities, called "Club Daughters of Bilitis." This is the first show to feature lesbian identities, though there has been a drama series featuring gay men the first drama series that featured gay men. Aside from dealing with lesbian sexuality, the show also dealt with other taboo issues like premarital sex, abortion, and mental illness – all in one episode! The show's title came from an American lesbian rights association in the 50s.
The fact that this aired on a public channel – not cable – is pretty remarkable, (The L Word itself was a cable channel show). As you could imagine, backlash was pretty fierce and immediate, and the network was ordered to stop the scheduled re-run of the episode. Many viewers expressed discomfort and unfounded fear that teenagers watching the show would be influenced to become gay. Another concern was raised over the fact that the show dealt with lesbian identities, which are less public and discussed than the slowly-introduced male homosexuality. (source) Many parents' associations campaigned hard to prevent the one-episode show from re-airing.
The show focuses on the lives of 6 women – 2 friends in high school (Joo-yeon and Yeo-gyung), a couple in their 20s or early 30s (Han-na and Young-eun), and 2 middle-aged couple Myung-hee and Han-ja. The episode opens with Joo-yeon listening in to other girls gossiping about a possible lesbian existing in their classroom, and trying to keep a neutral face as they toss around accusations of the unknown lesbian being "too ugly to get a boyfriend." Thanks to her resourceful ally and friend Yeo-gyung, she finds a website for meetihg other lesbians, which leads her to Han-na, who's going through some relationship troubles and pressure at work from a nosy subordinate. Myung-hee and Han-ja run an underground lesbian bar called Club The Daughters of Bilitis, providing temporary relief from the heteronormative society.
I had a chance to watch it last night thanks to the power of the internet, and here are some thoughts I gathered from it: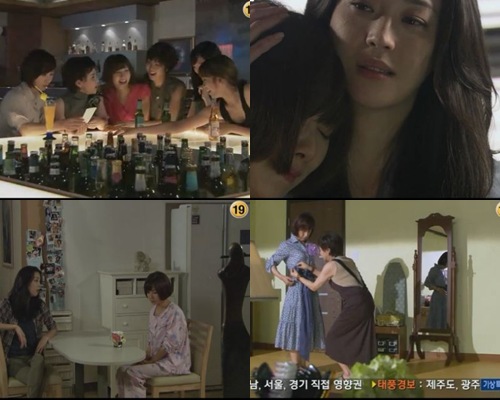 I really liked how the show portrayed different generations of lesbians – from teenagers dodging rumours at school, to women in their 20s and 30s fighting familial pressure to marry men, and the middle-aged lesbians who either successfully evaded their family's demands and were left alone, or shattered their families after marrying and having children. It really sent the message home that lesbian identities are not a passing trend or something that is "new" due to Western influences. There's also a great generational moment when Han-na brings the high school student to the club for the first time, and she exclaims: "Oh, it looks so…normal. I thought it might be more…perverse."
The lesbians represented in the show are pretty feminine, as expected. The middle-aged ladies sport short-ish hair (but the kinds of haircuts that could go both ways), but the wardrobe definitely has a feminine bent, with dresses and skirts. The closest to hints of "androgyny" we get is with Han-na, the only woman in the show who is working in a "normal" office environment who wears oversized blazers and leggings. (which is to say, butchness or "true" androgyny doesn't exist on this show)
Sexuality itself wasn't on display very much. Despite some rumours that there might be some sexually explicit scenes, there was zero display of affection – a hug, a little hand on the face, but no kissing. There was a slightly bi-phobic comment as one of the storylines involved a woman who has a one-night stand during a conflict with her girlfriend, and gets pregnant as a consequence. When her partner learns of the pregnancy, she screams: "so it's like that? You just go back and forth?"
What also struck me was the radically different symbolism of "coming out" in the Korean context. Typically, in North America (and according to Dan Savage), coming out is considered a necessary and liberating step to be your "true" self. Sure, the family devastation is factored in, but it's usually mentioned as something temporary that will blow over, something that will not affect your overall safety and status in the world in general. In this show, the only woman who did come out was banned from seeing her children for 10 years, which leads her to say "I can't say I don't regret coming out, or telling my husband." The similar sentiment is echoed from a high school student's advice to a friend: "whatever happens, you can't get caught."
As someone who identifies as Korean and a straight ally to the LGBTQ community, I felt pretty proud watching this. It's still unbelievable to me that something like this got a pass from a story meeting. It gives me hope that maybe Korea can move towards being a more acceptable climate towards gay and lesbian identities and lifestyle – Furthermore, the show's focus on  female friendships and mentorship in a way that many drama series do not (because they tend to focus mostly on heteronormative match-making) felt even more special.  Other media outlets have expressed similar sentiments about the show's symbolic importance. It also demonstrates the power of media and culture that can really bring something into public consciousness and spark a debate about a largely ignored topic.
Thanks to the power of the internet, you too can watch "Club Daughters of Bilitis" with English subtitles (divided into 4 parts) here.
[stills from "Club Daughters of Bilitis" from here]
*The first drama series to deal with homosexuality, "Life is Beautiful" (which aired on SBS in 2010) resulted in anti-gay groups taking out ads to criticize the show, and the actors were asked to leave a chapel where they were filming a scene. Other independent films, like Antique, features a gay bakery chef's unlikely friendship with a straight bakery owner.